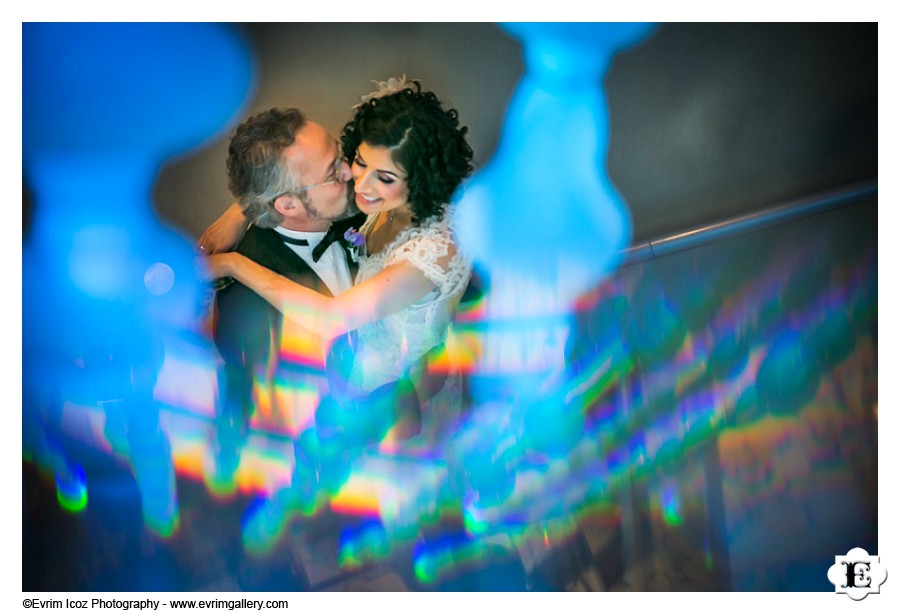 The ballroom at The Nines Hotel the day of the wedding was breathtaking. I've never seen anything like it at a wedding ceremony or reception. The beautiful white drapes up-lit by professional lighting courtesy of Greenlight Creative, and the thousands of orchids that came down the drapes, stringed together from the ceiling as backdrop, as well as the rest of the light flowers and ghost chairs, gave the ballroom an elegant and uplifting air.
Raffaela and Carlos are a very cute couple. Carlos is the music director for The Oregon Symphony, and Raffaela is a violinist. They are both fun and romantic and quirky, and it was a pleasure to work with them.  I loved seeing their reaction to each other when they both got dressed and saw each other for the first time! The bride wore a beautiful Monique Lhuillier gown, and the groom looked very dashing in his tux. Carlos is originally from Austria, and his daughters wore traditional dirndls to the wedding. I had such a great time shooting this wedding.
I have to give a shout out to the wonderful vendors I worked with as they all did phenomenal job. It all started with the creative genius of coordinator Jennifer Fox, owner of Perfect Planning. Stephanie Major of Petalos Design did the flowers (and a mighty great job at that!). Event Team Entertainment kept everyone dancing and having fun. The bride's make up and hair was courtesy of talented Powder Inc.  The cake was done by AK Cake Design , and John Paulk from Mezzaluna Fine Catering provided the amazing chocolates for the reception. And I also have to say what a wonderful job The Nines Hotel staff did. Everything ran smoothly, and the food was wonderful. This wedding also had the coolest menus done by Lindsay Zogas of Paper Bloom, and the invitations are a collaborative effort of Lindsay Zogas of Paper Bloom and Alesia Zorn of Alesia Zorn Calligraphy.