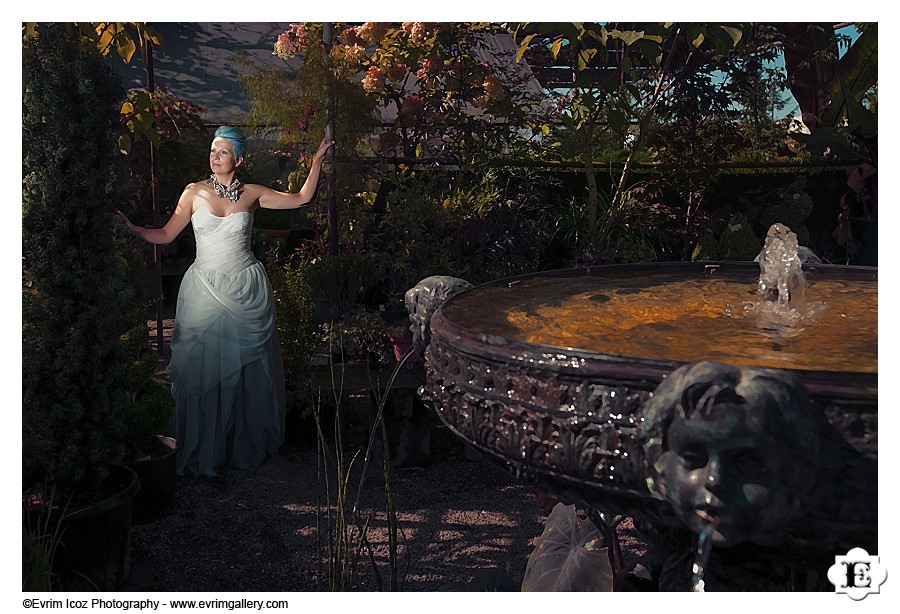 Rebekah and Joe's wedding was nothing but ordinary. First of all, they are big fans of bicycles and steampunk. Also, Rebekah has a different charming hair color every time I see her, and Joe's wedding present was a donation to Tesla museum in Rebekah's honor. Awesome. So their choice of venue, the ever flexible Castaway was perfect! I had the chance to work with Carmen from Ella Events, and she is so great at what she does. For their place "cards", Carmen found an awesome locker door, and created from old beautiful nails a one of a kind place card and used the locker door as a holder! The ceremony was lots of fun, not many times you hear Duran Duran's Hungry Like the Wolf quoted! They also had the best cake topper ever! A robot cake topper? Awesome! The British inspired cocktails, Pimms & Lemonade and Double Agent were a huge hit as well (Joe is from England!)
The vegetarian food by Culinary Artistry was fantastic. They are a top notch catering company, and the food bears witness. Rebekah and Joe also utilized the Versailles Garden and Pomarius Nursery as part of their wedding while Castaway was being transformed in between ceremony and reception.  If you have not been to either location, you should check it out as they have some very beautiful items. I was able to utilize both locations for some fun portraits!
They also had some amazing deserts from  Miss Zumsteins and macaroons from Pix Patisserie. The pistachio ones were a huge hit, and they also happen to be my favorites. The flowers by  Punch Florist were a perfect match for the nail colors Rebekah chose.
I am also including couple pictures from the bicycle ride and picnic they did the day before with their guests! The vegetarian sandwiches by Brass Tacks were a big hit. I also loved Rebekah's beautiful steampunk necklacefrom Brehan Todd and their bicycle themed invitation.
We also had a chance to shoot some pictures at the Nines Hotel. What a beautiful setting!
Other vendors: Paul Munoz dj rndm noise for DJ ,Sean McGrath from livewire Radio Show as officiant, and Portland Pedicabs for transportation.
(You can see the full set of pictures here. Please ask for the password from the couple.)