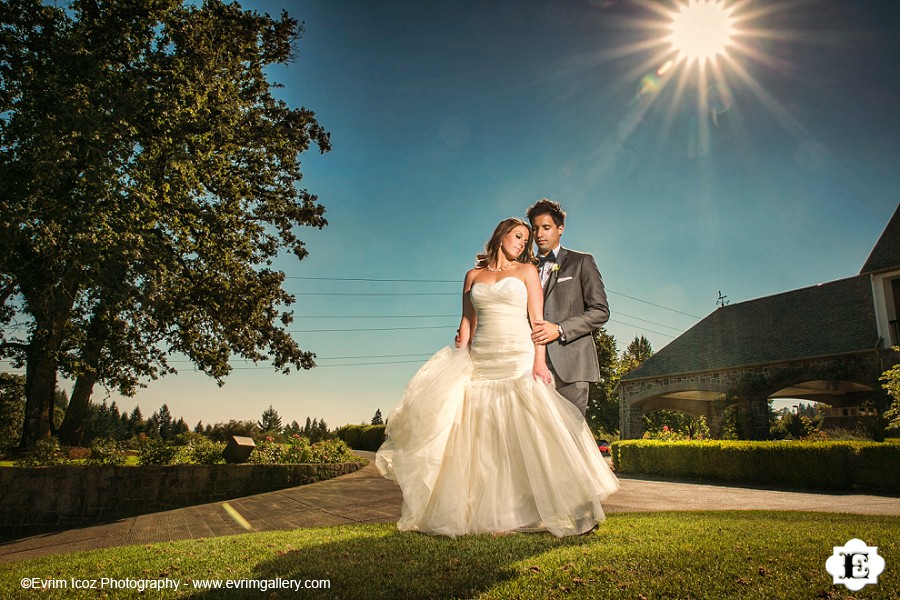 In Venezuela, there comes a time in the wedding when all fun breaks loose. La Hora Loca is a party within a party, and to bring a high energy transition to the dance part of the reception from the more traditional first part of the reception! It is a no holds barred party where everybody dances like crazy. Well, this wedding was no different and thanks to the props organized by Katy from Bridal Bliss, everybody was looking awesome and Pressure Point band, one of my favorite bands killed it with the music. Even the groom and bride were on stage, Juan with the cow bell and rocked the party! There were also tequeño served – super yummy!
We started the day at The Nines Hotel, where everybody was getting ready. There were many teary eyes while Margot was getting ready, and guys were, well, being guys 🙂 We did a quick first look utilizing the beautiful architecture of The Nines Hotel, and then went to the beautiful Oregon Golf Club. I love working there, as the staff is always amazing, and food is great as well.
If you remember, we had a bunch of big forest fires in Clackamas County, and you could see one of them from far away – it created a very unique cloud, look for it in the pictures! Oregon Golf Club has some amazing views by the way, so we used that to our advantage during the couple's portraits!
And the wedding vendors we worked were all fantastic – special thanks to Crave Design who did a wonderful job with the stationary, Greenlight Creative – they are the best in special events lighting, Zest Floral with amazing and classy flowers, Powder Inc who of course did an amazing job for Margot!
Enjoy!