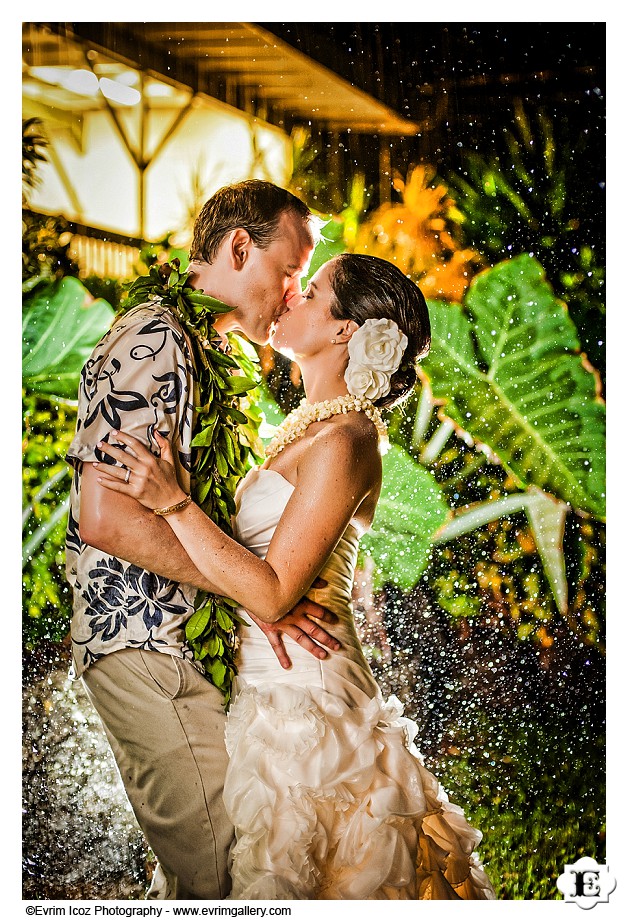 Being from Portland, we do not shy away from rainy weddings. Kimberly warned us that it would be rainy at Paliku Gardens at Kualoa Ranch in Oahu. Well, we got more than we bargained for. The good thing about different weather conditions is that you can some amazing photos that normally you do not have a chance to. Kind of making lemonade if life gives you lemons. In this case, life gave us amazing couple and beautiful scenery!
We met Kimberly at another destination wedding in Zihutanejo. We stayed in touch and were delighted when she contacted us and told us she was engaged!
Hawaii is a beautiful state with beautiful traditions. One of my favorites is the luau. With fire dancers, hula dancers and other entertainment, the rehearsal dinner / luau was a joy to photograph. Another tradition we love is bride's hula dance gift to the groom. It is extremely touching. And the shaved ice? Yumm!
Paliku Gardens has amazing scenery with spectacular cliffs right behind the wedding location. It made our job much easier! Kualoa Ranch is a fantastic place with 4000 acres of natural beauty with fantastic views of the ocean. Give them a call if you would like a Hawaii wedding, they are fantastic!
And make sure to check out the bride's bouquet!
You can see the rest of the wedding pictures in the wedding gallery. Please ask for the password from the couple.