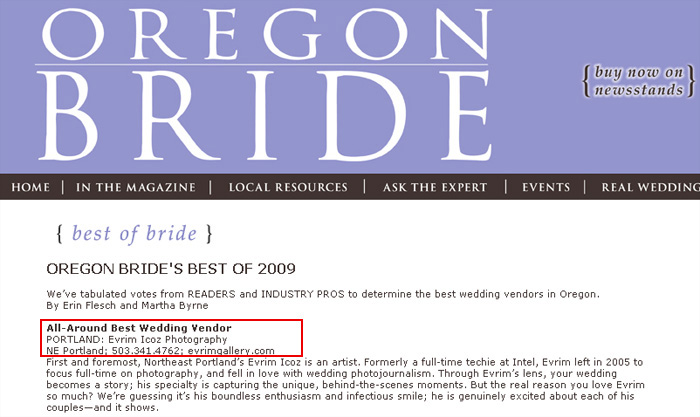 I was delighted and honored to hear that I was chosen by Oregon Bride Magazine readers and other vendors as the 2009 Oregon Best All Around Wedding Vendor! It is a great honor to be listed among some of the top names in the industry. Thank you!
Here is what they say on their site:
All-Around Best Wedding Vendor
PORTLAND: Evrim Icoz Photography
NE Portland; 503.341.4762; evrimgallery.com
First and foremost, Northeast Portland's Evrim Icoz is an artist. Formerly a full-time techie at Intel, Evrim left in 2005 to focus full-time on photography, and fell in love with wedding photojournalism. Through Evrim's lens, your wedding becomes a story; his specialty is capturing the unique, behind-the-scenes moments. But the real reason you love Evrim so much? We're guessing it's his boundless enthusiasm and infectious smile; he is genuinely excited about each of his couples—and it shows.