Frequently Asked Questions
---
What is your vision of wedding photography?
I believe that the best way to capture your wedding is by being part of it, by observing, not interfering (except for relaxed posed shots!). I believe in story telling and documenting the feelings that come out naturally, watch the events unfold, and photograph that fraction of a second when everything comes together.
That is great! But what do you do differently?
My involvement with your photography does not stop on your wedding day. For your wedding day images, I will edit your pictures with experience I gathered from shooting film, in a classic but modern way, correcting color and brightness and contrast.
I have years of experience in dark room, and loved reading and practicing teachings of Ansel Adams and other amazing dark room magicians. I carried that experience to my digital editing. This skill set is currently lacking in most photographers as they rely on editing companies or trendy but short lived effects for their photography.

Since I love doing custom edits, for your album images and large prints, I spend a lot of time in my digital darkroom, creating Signature Fine Art images for you. I hand pick images that to me represent the emotions of your day and enhance them to reflect those emotions. Nothing cheesy, nothing formulaic but old school editing style meeting digital techniques.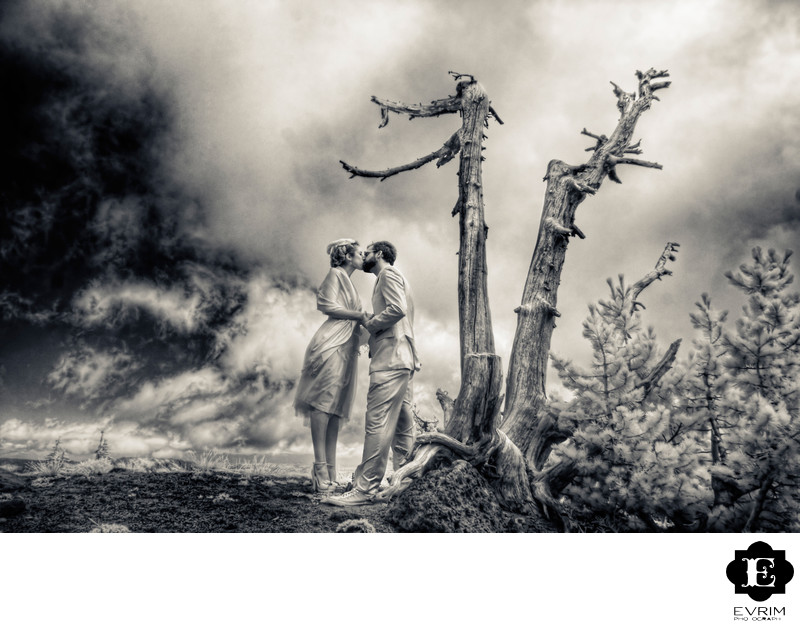 (An infrared custom edited image from Timberline Lodge)

Tell me how we will work together!
Before the Wedding: About four weeks before your wedding, I will send you an information sheet for you to fill in. This information will allow me to learn more about the details of your wedding and also will allow me to be more efficient and that we do not miss any details! After I review the information, we will chat about some of the more important details, such as timeline, posed shot list, or any special arrangements for your wedding. I do most of this over email, but we can meet face to face as well!

Wedding Day: I will arrive early in the day, and will spend most of the time covering couple's getting ready pictures and also capturing the set up's and the details! I will do this in a very unobtrusive way. The getting ready shots also gives the family and the wedding party a chance to get used to being photographed. This way, when it is time for the formal shots, family and wedding party already know us and can be much more relaxed!
Even though I shoot weddings in a photojournalistic style, I understand the importance of posed shots - weddings are often the only place where the whole family comes together. I will arrange a good spot for the group shots and organize each group and we will work on the shot list together so everything runs smoothly and quickly!
I do not want your wedding party to spend hours posing, you have a reception to go to! So we will work in a relaxed and fun way, capture great smiles and expressions, and send everyone to reception to have fun!
If we have time (we will), and if you feel like it, I will take the two of you (and only you!) and we will do a little fashion/fun/romantic shoot together! We will find some cool spots and have fun together. I won't direct you much - you obviously love each other so just be yourself.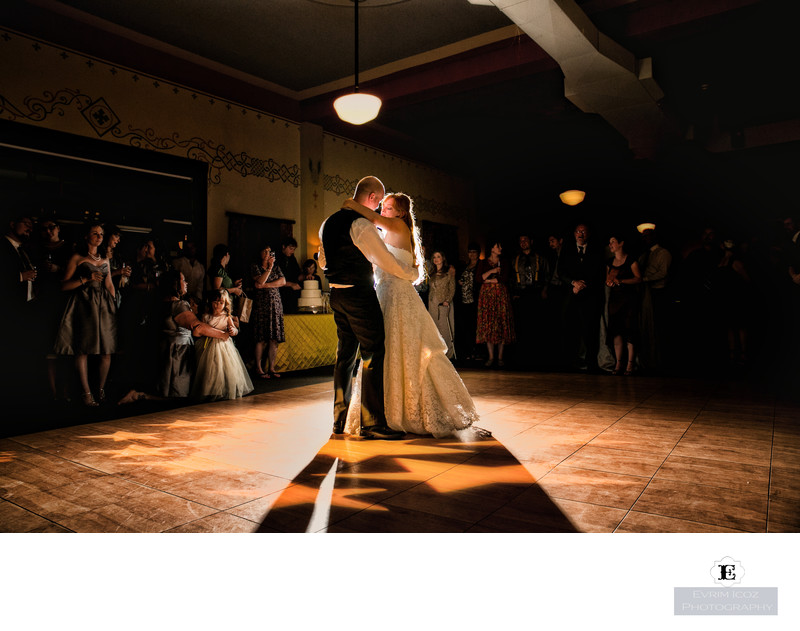 First Dance at McMenamins Edgefield Blackberry Hall

I really enjoy the receptions - I think it is because I do partner dancing and love dancing and people having fun! I love the energy of the dance floor and since I am also a dance photographer, you will have some awesome dance photographs as well! If the party is rocking and runs longer than your coverage, and you want me to stay, just let me know and I'll simply charge by the hour.
I use ambient light whenever feasible, but I am also very comfortable with using flash in a flattering way. A good photographer should be able to do both, and over a decade of photographing events allows me to get very creative! Indoor lighting is crucial to good photography, and since I learned by photographing dancers indoors, that is one of my expertise areas.
I make sure that my photography even if I am using flash, shows the ambiance of the room. Most photographers use a lot of lighting, or just bounce of the ceiling, which kill the carefully set beautiful ambiance. We use directional (and unobtrusive) lighting, similar to movie sets but with much less equipment.

Do you shoot film or digital? How about backups?
I am all digital. I use state of the art professional digital cameras. Since my background is in engineering, I am very comfortable with the technical side of things, which frees my creative side. I also bring extra camera, lens and flash equipment, just in case. Everything is also backed up twice.
Albums - How does the design process work?
It is simple - you choose the images, I do the design! I prefer if you can come to the studio to use our special software for selecting your album pictures, that way it goes faster, it is taken care of in one go, and I can also give you suggestions if you are stuck! However, you can also do it online! I will deliver the album proof digitally to you so you do not have to meet in person and you can let me know if you want any changes. The good rule of thumb for bridal size albums is about 2 per side (page).
Do you shoot black & white and color?
I shoot a mix of black and white, and color. I go through each image at the time of editing to determine which version would look better. I usually end up with a similar number of B&W and color images, as well as some infrared and uniquely toned images.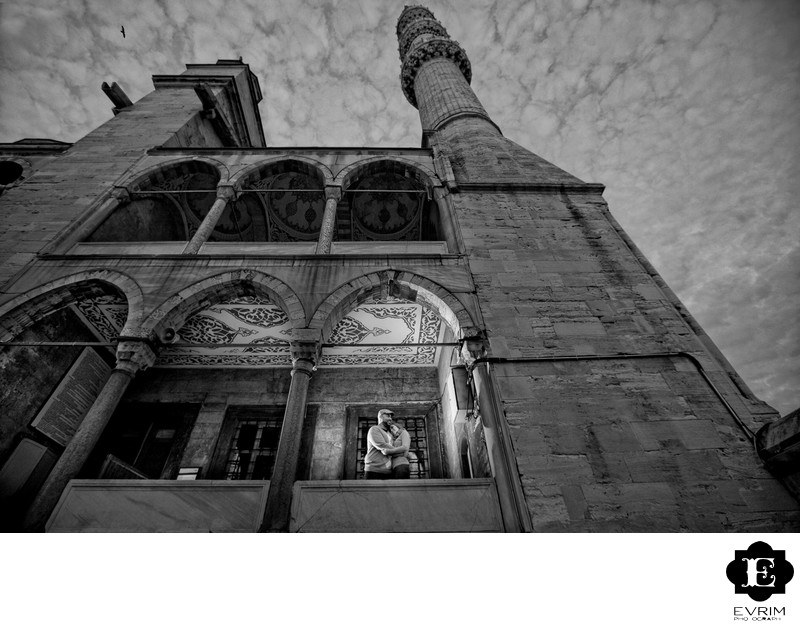 An Engagement Session in Istanbul, Sultan Ahmet Mosque

How can we reserve our wedding date?
I would love to schedule a consultation with you to go over your wedding plans and to show you my portfolio. Please contact me to set up a time to meet! I am only able to reserve your date after receipt of a signed contract and a booking fee (retainer).
How about travel?
I will gladly travel anywhere in the world! I enjoy shooting at different places and we have traveled to many places such as Costa Rica, Hawaii, Istanbul, New York, Cancun, Puerto Vallarta, Sayulita, California, Seattle, and Dominican Republic for weddings.