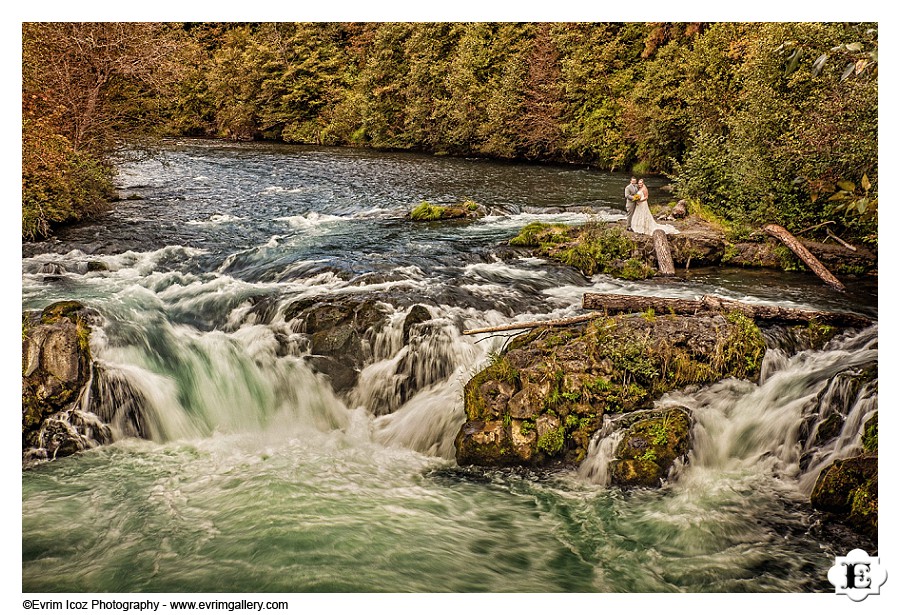 I loved all the little details Whitney and Kyle put in their DIY wedding – a camera scavenger hunt for kids and little sheriff stars for them as well, beautiful decorations with sun flowers, and a tree of life 3D wedding signature "book", a very rustic barn set up with a photo booth, a candy bar (my favorite thing at a wedding food wise 🙂 ), with a back drop of horses and alpacas. The band was fantastic as well! Did I tell you I love barn weddings?
We went to the nearby Huslum Falls and took probably my favorite waterfall images!! (and yes, I am excited about them hence all the exclamation marks). Originally we talked about doing them, and I was very excited about the waterfall pictures, but unfortunately it seemed like the timing was not going to work out. I was bummed but hey, what can you do! However, thanks to our efficient planning with Kyle and everybody being ready on time (thanks!), I was able to do the group shots quickly and we had just enough time to make a quick trip! I love it when wedding couples make time to do some fun photos, especially in such fun settings as Huslum Falls near White Salmon. Washington and Oregon has some amazing sights around The Columbia Gorge and I love it when a wedding is in the Columbia Gorge area!
Those who follow my Instagram (follow me at @evrimicozphoto) know that I am a big fan of food and animals. There were plenty of both this time. The food was out of this world, thanks to Kyle's brother in law Brian cooking for them! He killed it with BBQ grilled ribs, chicken, and salads made with heirloom tomatoes from the garden? Yes! Everybody loved it! And tons of puppies were roaming around as well! Check out the photo of the puppy drinking water from what was supposed to be chilled apple bucket!
I love it! Oh and make sure to also check out Whitney's beautiful and fun cowboy boots! Her dress was also gorgeous, from Maggie Sotteross at Pearls and Lace Boutique. I have not heard of the band , H3O, but they were super fun to listen to.
And my favorite moment? During the ceremony, the clouds seperated and light rays (that we sometimes call God rays in photography) shone on the couple. It was beautiful and very touching.
You can see the full set of wedding photos here. Please ask for the password from the couple!