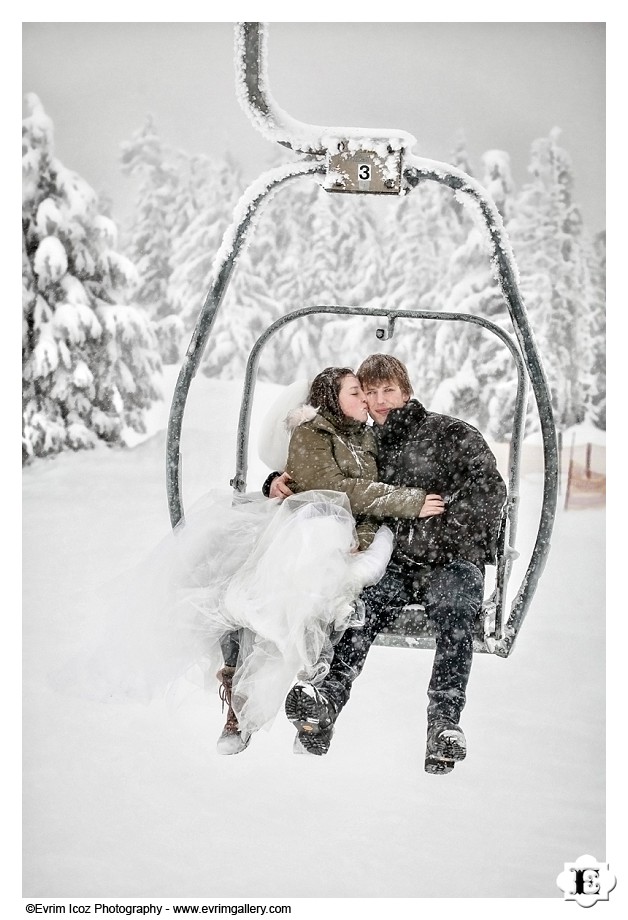 Samantha and Jeremy are one of the sweetest couples I ever met! They are very much in love and they just adore each other. I was very happy to photograph their wedding at the Timberline Lodge, one of my favorite places in Oregon  to photograph. This Oregon winter wedding had it all – and tons of snow!
I loved that their officiant Rob came in a Santa costume basically and he even tried to have the wedding outside, but the storm picked up it's pace and the ceremony got moved indoors. Still, it was very emotional as you can tell from the photos. I also really enjoyed how Samantha included some details of the holiday season in to her wedding: her bouquet is made with pine cones, and she had winter and holiday themed Starbucks cups filled with goodies!
After the dancing, everybody got together under the Christmas three and opened their presents!I thought it was really neat! We also did some awesome portraits at the ski lift. Many thanks to Timberline staff for being so accommodating and easy to work with!
Venue: Timberline Lodge
Officiant: Rev. Rob Figley
Baker: JaCiva's
(You can see the full set of pictures here. Please ask for the password from the couple.)